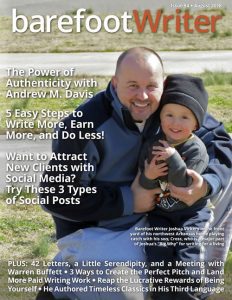 Landing on the cover of the prestigious Barefoot Writer Magazine in August, 2018 was an incredible honor as much as it was a surprise.  Pictured with my son, Cross, I was blessed to be honored for so called, "Cracking the Code" when it comes to online marketing in the automotive industry.
However, helping to carry the burdens of other Christian business owners – walking alongside you into a realm of unimaginable success – is what brings me true joy when it comes to business. 
My name is Joshua Vickery.  Many know me simply as, The Harvester.  I am CEO and Co-founder of The Harvesters' Group; my digital marketing and consulting company in the automotive industry.  
I was truly blessed in 2018, being able to help automotive dealerships have as much as a 147% sells increase in new and used cars year-over-year (which is unheard of), and helped clients to have their most profitable year in 23 years of doing business.
But make no mistake… from the beginning my goal (and I would prefer to say, "My Calling") has been to help Christian business leaders all across the globe to have success like they never thought possible. 
And if I can provide the aforementioned results in the most competitive retail industry in the world (the automotive industry), would you not agree that I can also help you to do the same in your business?
So… here's whom and how I can help.  If you are a: 
Retail Business Owner

Service Oriented Business Owner

Blogger
… or almost anything that involves being online, I most definitely can help when it comes to: 
Website Development and Design

Search Engine Optimization for Your Website (SEO)

Online Content Marketing

Web Page Optimization Architecture

Lead Generation

Email Marketing, Automation & Segmentation

YouTube Video
I have the perfect understanding that we are guaranteed nothing for tomorrow.  However, in 4+ Years of doing what I do, I have not yet failed to help a single client to drastically increase his/her business profits…
Please, don't put it off any longer.  Make 2019 Your Most Successful Year Ever!